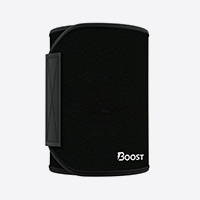 My Dream Come True
After a week you will notice the difference.
the best waist trimmer I had so far
Wow the best waist trimmer I had so far. I??m throwing my others ones away. This one fits true to size also defines your waist and shape. I can feel my mid section sweating immediately. The Quality is amazing and it??s not thick like the other ones it??s just right. I??m 5??2 150 pounds I got a size M.
Amazing works wonders
Boost Waist Trimmer is a wonderful thing to add to my workouts and finally got they're brand waist trimmer and I actually really like it
Helps a lot
This waist trimmer is awesome
Def worth the price
?Was a little skeptical about this at purchase but after I got it I was very happy with it. It fits perfect. I am able to do my full work out including my ab exercises in this and the previous waist trimmer I had I could barely move in it. I am loving this one. It??s been about a month and it??s still holding up. I sweat pretty hard in it. Def worth the price.